21
Medi 2019
9:45AM-12:00PM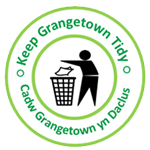 Come and help us make a difference to Grangetown! If you live locally and are fed up with litter and dirty streets in Grangetown, this is your chance to do something about it.
Everyone is welcome including children (with an adult) and dogs. All equipment is supplied and all volunteers earn Time Credits (more info below) so you get rewarded for your time helping the community. Just turn up and look out for our hi-vis vests.
Hope you can join us – we're volunteers of all ages living locally who want to make Grangetown a nicer place to live. If you can spare an hour or two please come along, get some fresh air, meet your neighbours and make a difference to where you live. You'd be surprised how many new friends people can make!
For each hour of litter picking you earn 1 Time Credit (eg 2 hours of litter picking = 1 cinema ticket!) Time Credits can be spent with all sorts of fab partners in Cardiff, including Channel View Leisure Centre, Chapter, Cardiff International Pool, Sherman Theatre, Techniquest and Wales Millennium Centre. So you can treat yourself and the family to a night out, film, soft play, gym trip, swim or lots of other things in return for helping your community! More info here https://timecredits.com/