Last week was the last of our Blitzes for 2017, as the teams now turn to the 'Big Sweep'. The team visited many different wards across Cardiff giving different streets deep cleans. In the last 4 weeks, volunteers have been out supporting the teams by litter picking the surrounding areas and helping to make a real difference to the areas targeted.
Last week 8 volunteers, many part of the wonderful 'Pentwyn Pickers', targeted The Hawthorns in Pentwyn and in just an hour picked 15 bags of rubbish, a mattress and several other random items. And because they are such a dedicated bunch they went back in the following day to make sure there was nothing missed, and collected another 8 bags!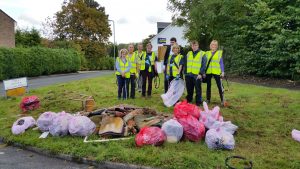 The week before volunteers helped the team in Llandaff  North, picking 9 bags of rubbish, before heading in for a cuppa in Llandaff North and Gabalfa Hub, admiring the newly planted street planter while we were at it.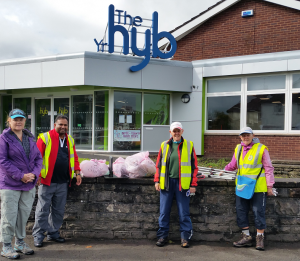 Over the next few months both the Blitz team and volunteers across the city are turning their attention to leaf fall as part of the 'Big Sweep'. We have shiny new 'bio bags' for leaves to be collected in and we will be delivering all the collected leaves to local allotments for compost. Plans for local Big Sweeps are already happening in Roath, Pontcanna and Splott.
If you would like to find out how you can get involved email lovewhereyoulive@cardiff.gov.uk or call the team on 029 2071 7717.
To see when the teams will be in your area see our leaf fall schedule here: www.keepcardifftidy.com/events/cardiffs-big-sweep