Sort it out!
Learn how to present your waste for collection. Order more bags and report missed collections.
Food Waste
Cardiff collects food waste weekly from every household.  You can recycle all cooked and uncooked food as well as tea bags and chicken bones using this service.
All you need is a brown Kerbside food caddy for your home (or a communal bin if you live in a flat).  Simply line a container in your kitchen with a food waste bag which are available for free at local council libraries, leisure centres and hubs.  You can also order kerbside cadies and food waste bags online.  When half full, transfer the liner to the kerbside caddy ready for collection
What goes in the food bin?
Tea & Coffee Grounds
Meat & Bones
Bread & Pastries
Fruit & Vegetables
Fish
Dairy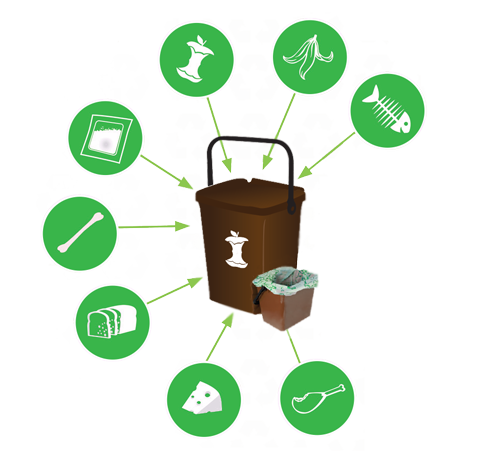 Food waste is turned into energy to power our homes using a process called anaerobic digestion.  Check out the animation to learn more.
Did you know that 6 recycled tea bags can produce enough electricity to boil a kettle?
In one year all of the food waste in Cardiff could have filled up 11 Olympic sized swimming pools!
Recycling
The Council collects recycling weekly from every household in Cardiff.  You can recycle paper, cardboard, glass bottles and jars, plastic bottles and food containers, empty aerosols and metal food cans all together in one green bag.
Once it's collected it is taken to our recycling plant in Lamby Way for sorting by hand and by machine. To see what the reprocessors do to our materials after they've left Lamby Way, have a look at these videos: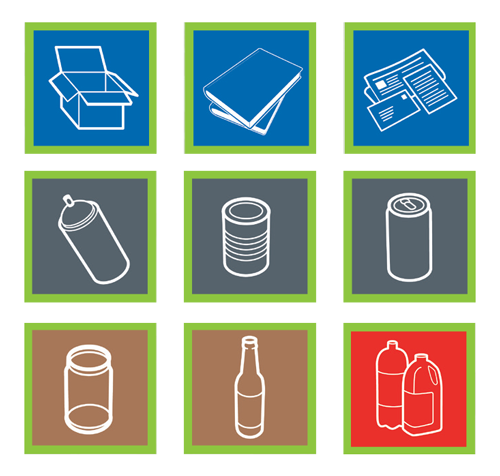 Once your recycling is collected, it is sorted at Lamby Way Materials Recycling Facility (MRF) before travelling to the reprocessors to make new goods!  Watch the video to find out more.
In one year we recycled enough glass to cover over 2000 tennis courts!
After your recycling is sorted into different materials, it is then sold to manufacturers to make new goods.  You can see what happens to council collected recycling on the My Recycling Wales website.
To find out more about the Cardiff recycling rate and where the materials go, visit My Recycling Wales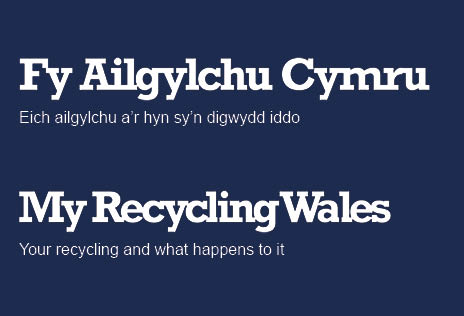 General waste
The Council collects general waste fortnightly from every household in Cardiff.  Depending on your area, general waste is collected either in a black wheelie bin or beige bags.  To encourage recycling and to meet strict government recycling targets, the amount of general waste the council will collect from each household is limited.  Find out more about your general waste collection, including how to present your waste.
Did you know?
We're no longer sending waste to Landfill in Cardiff; we work with a company called Viridor who turn our waste into energy.
If you'd like to see behind the scenes in the plant, why not book a visit?
Garden waste
The Council collects garden waste in Cardiff fortnightly in the summer months and monthly during the winter.  Depending on your area, garden waste is collected either in a green wheelie bin or white reusable sacks.
If your home is on a route for a reusable garden sack collection, you must opt-in to the service.  If you are not sure, you can check your collections here.
Did you know that your garden waste is turned into compost which can be used to grow more plants?
By recycling garden waste we're helping the environment. The environmental impact of recycling Cardiff's garden waste in one year was the equivalent of taking nearly 2000 cars off the road!
Bulky items
Bulky items or large quantities of waste generated from a house clean-up or move out can be recycled at your local recycling centre free of charge. However you must provide proof when visiting that you live in Cardiff. Find out more about bulky item collections
Cardiff also provides a bulky item collection service and a chargeable collection for house clear ups. This is a low cost collection solution to remove unwanted items from your home.