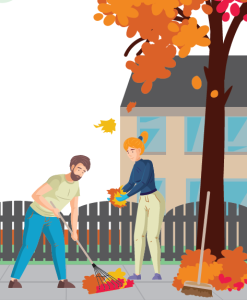 It's Leaf Fall time of year again – Autumn to most people!
Whilst our Council teams will be busy clearing leaf fall around the streets of Cardiff, they cannot be everywhere at once. And this is where you can help in your street.
If you live somewhere with trees on your street, then why not take part in a local "Big Sweep". We will provide bags and you can collect the leaves on your street. This community volunteering can be done either individually by yourself or you can get your neighbours involved for a leaf clear up.
Once the bags are full you can let us know and we will come collect them. They need to be left in a location that does not block any paths or roads and is safe for our crews to stop at.
If you would like to take part, please contact lovewhereyoulive@cardiff.gov.uk  or call 029 2071 7564.
Find out more about our leaf fall cleansing schedule in your area here.​
You can also report leaf build-up and blocked drains on the Cardiff Gov app.
Published: 25/09/2021
Updated:28/09/2022