Last week Wales and West Housing invited me along to one of their sheltered schemes to help the residents with their own 'Big Sweep'. It was a lovely afternoon, I meet some really nice people, the place looked lovely when we were finished and we even found a frog!
But the real star of the afternoon was Pete. Pete has been living in the scheme in Pontcanna for just over 10 years and used to love being out and about. Over the last few years his health has declined and he hasn't been able to do as much as he would have liked. But the Big Sweep gave him the perfect opportunity to get involved, and he loved it!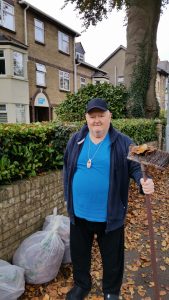 Together with the scheme manager, Pete first helped clear the garden of leaves, and covered up the furniture for the winter. This is where we met the rather startled frog, but he soon happily hopped off back into the undergrowth. Pete told me that they get lots of wildlife in the scheme from bugs to birds, which is part of the reason he likes living there so much.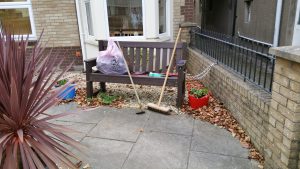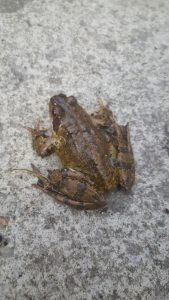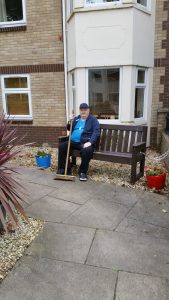 Next we turned out attention to the car park. Wet leaves can be especially dangerous for older people so we were careful to remove as many as possible. And with Pete's amazing sweeping skills we collected 8 big bags. The front garden was the last place to sweep and there we met up with another resident who was planting winter bulbs in the lovely planters brightening up the garden. Another 2 bags of leaves were collected, creating a safe path from the road to the front entrance.
After that we had a well-deserved cuppa and cake, and meet with the other residents who congratulated us on doing a great job. It was lovely to sit down with so many people, and each had stories to share about their time in the scheme. Pete was elated that he had managed to do so much, the most exercise he had had in over two years. He felt much better in himself for doing it and hoped it might help him sleep better as well. Since the Big Sweep more residents have expressed an interest in getting involved and so we have another date scheduled for the end of November.