Last Saturday I went out on one of Keep Roath Tidy's weekly litter picks. 16 wonderful volunteers attended and collected well over 30 bags of litter. With so many volunteers, we managed to tackle a huge area, making a real impact on some of those streets that the group don't normally get to.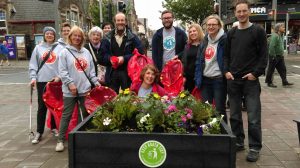 Keep Roath Tidy have been going for the last 2 years, headed up by a committee of 8 local residents who volunteer their time regularly to make a difference to where they live. Over this time they have collected an outstanding 1476 bags of rubbish between them. The benefit of this activity also reaches beyond an improved street scene.  Jennifer Jones who leads KRT describes her aim to "organise weekly litter picks which allow local residents to become involved in voluntary activity close to their home, improving health and wellbeing of people in the local community, and helping people to feel directly engaged in their local community". And they certainly are doing this.
After our hour and a half of litter picking the group rocked up to Roath Farmer's Market for a coffee and a chat. The social element of the group is great and there is a real sense of belonging. The group also have t-shirts, which are given to members on their fifth litter pick. A lovely touch, and I'm only four more picks away from getting mine!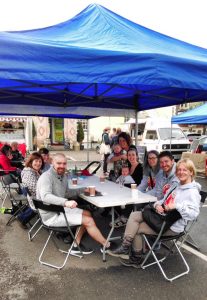 As well as litter picking the group have taken ownership of a community street planter which sits proudly on the junction between Albany Road and Donald Street. Its vibrant colours bringing pleasure to all that pass it. The planter has been such a success that the group is now moving forward with their own planter scheme – and are currently looking for your votes in local Tesco's to help them raise funds. To find out more about what they are up to check out their Facebook page – https://www.facebook.com/KeepRoathTidy/
If you would like to get involved, they meet weekly in front of The Post Office on Albany Road every Saturday at 10:30. All equipment is provided. See you there!