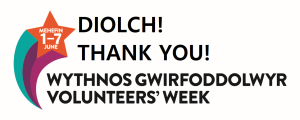 Love Where You Live would like to say a huge thank you to Cardiff's volunteers and celebrate an incredible 12 months of action as part of Volunteers Week 2022.
Adapting to various Covid-19 alert levels in 2021 and 2022, didn't stop our volunteers taking part in a record amount of activity since April last year.  Over 5500 activities took place from April 2021 – April 2022, which resulted in 14,847 bags of litter collected – 858 of those were bags of recyclable material, diligently selected separated by volunteers whilst litter picking.
Dedicated individual litter pickers and community group clean-ups organised by local residents managed a total of 14,663 volunteer hours between them over the last year, with new litter picking groups forming and record demand for the Litter Champion Scheme.
Keep Wales Tidy and Cardiff Council work in partnership to support all volunteer activities. Charlotte, from Cardiff Council's Love Where You Live campaign said:
"From my first year co-ordinating Love Where You Live, I am so inspired by Cardiff's incredible volunteers who freely give their time and energy to improve our city.
We are so very lucky and honoured to work with such amazing people, who take action, make such a difference in their area and empower others to join in too.  It's fantastic to see the community grow, to see the friendships form and to see residents feel closer to their neighbours and neighbourhoods"
If you are interested in taking part in voluntary Litter picking activities, there are many ways to get involved.  Take a look at our blog post to learn more about the different activities that are taking place in Cardiff –
Interested in Keeping Cardiff Tidy? We'd love to have you on board! – Keep Cardiff Tidy