Cardiff Rivers Group founder member Dave King has been awarded an MBE in the Queen's Birthday Honours list "for services to the environment".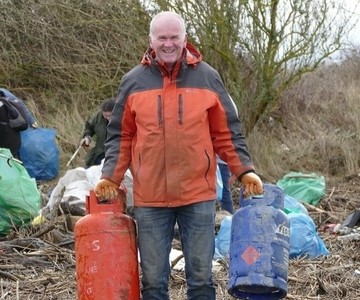 Dave set up Cardiff Rivers Group in 2009 and a decade later, the group has gone from strength to strength with an excellent committee and over 600 supporters and volunteers on their membership list, working with organisations and companies including Cardiff Council, Viridor, Cardiff Parks Services, Natural Resources Wales, Love Where You Live, McDonalds and South Wales Police.
In parallel to setting up Cardiff Rivers Group, Dave started Keep Grangetown Tidy and was instrumental in getting Keep Splott Tidy off the ground. He also set up 'Dusty Shed' – a charity that aims to help men in social isolation.
Dave said: "I was in complete shock when I received the letter from the Cabinet Office. My wife and dad cried when I told them. It's been lovely, really touching, people have been very kind to me. When we first moved to Cardiff from Surrey 11 years ago we lived by Channel View and the view was lovely but what struck me was the amount of litter in the River Taff, so I contacted Keep Wales Tidy to get involved in litter picks and it's gone from there. It's been great, I enjoy it!"
"The Rivers Group is more than just a litter picking thing. You can get out, make friends, you're really making a difference. We've helped people prepare to get jobs, we're a social circle, and we're a network. I think partnership working is really important, our relationship with Cardiff Council is great, we work together to just get things done."
"This nomination has made a massive difference to me, it's been fantastic. Next week we're going on holiday and when we get back I want to get straight back to work".
Congratulations Dave and thank you for making such a difference to Cardiff, this award is truly well deserved.
Feeling inspired? Get Involved! Find more information and events from Cardiff River Group and visit Keep Cardiff Tidy for more information on volunteering.